5 Delightful Cocktails to Sip While Lounging on your Pool Float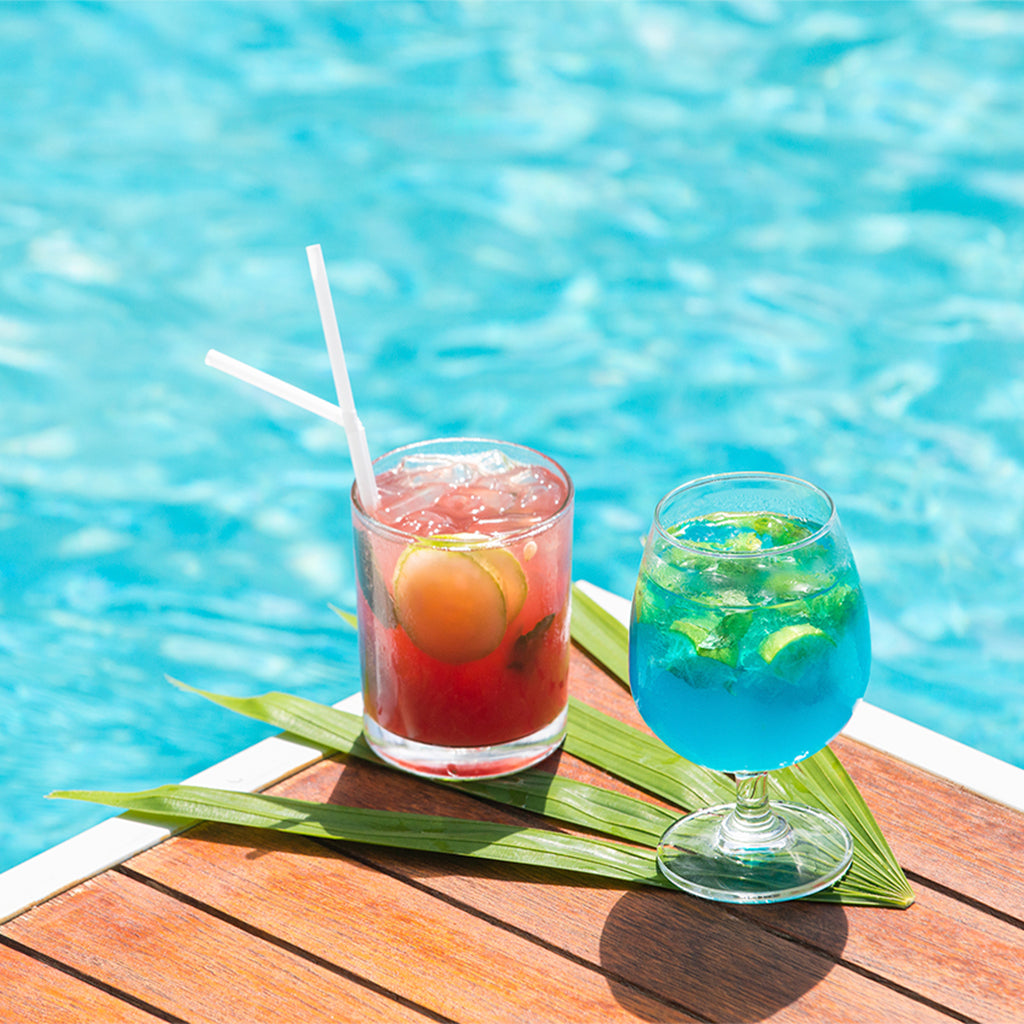 Sipping a fruity cocktail while lounging on a pool float can make your backyard staycation feel like an exotic vacation.
As you lie on your pool float with drink in hand, let your mind travel to a faraway destination. Reminisce about vacations past or dream about future trips. Experience the tastes and sounds of the world's most beautiful retreats without all the hassle of TSA pat-downs, flight cancellations and lost luggage.
Soon, it will be time to inflate your pool float, dust off the cocktail shaker and travel the world without leaving your house.
Hawaii: Mai Tai
America's 50th state is a dream vacation for people around the globe and nothing symbolizes the aloha spirit more than the mai tai.
To create an even greater Hawaiian experience, the Sound Float pool float has waterproof Bluetooth speakers, so you can listen to Hawaiian slack-key guitar music while drinking this legendary island concoction.
The mai tai was first served at Waikiki's Royal Hawaiian in 1953. In 2017, this version of the classic Royal Hawaiian mai tai won the Reader's Choice Award from Hawaii Magazine.
1 oz dark rum
1 oz light rum
1 oz orange curacao
2 ounces orange juice
1/2 oz lime juice
Dash orgeat (a sweet syrup made from almonds)
Dash simple syrup (bar syrup)
Preparation
Combine all of the ingredients in the order listed in an old-fashioned style glass over shaved ice. Stir with a swizzle stick. Garnish with a slice of pineapple and a cherry.
Puerto Rico: Piña Colada
A sunny summer afternoon can be made perfect with the three P's: Pool float, piña colada and visions of Puerto Rico.
In 1954, a bartender at the Caribe Hilton in San Juan created the piña colada by combining rum, pineapple juice and coconut cream. By 1978, the piña colada had been declared the official drink of Puerto Rico.
2 ounces white rum
1 oz coconut cream
1 oz heavy cream
6 ounces fresh pineapple juice
½ cup of crushed ice
Add the rum, coconut cream, heavy cream and pineapple juice in a blender. Add the ice and blend until smooth for about 15 seconds. Serve in a 12-ounce glass. Garnish with a fresh pineapple wedge and a maraschino cherry.
Mexico: Margarita
Margaritas are beloved year-round. But, they taste even better near cool, sparkling water on a hot day.
The Sound Float pool float has ample cup holders, so you won't spill a drop of precious tequila.
Note: Floating in your pool with a plate of nachos on your chest is not recommended.
It's not entirely clear who invented the margarita. In fact, the great margarita debate rages to this day with several establishments claiming bragging rights. The majority, however, believe it was the brainchild of Hussong's Catina in Ensenada way back in 1941. And Hussong's takes full credit by calling themselves, "Home of the Original Margarita."
When Hussong's opened a location in Sin City, Las Vegas Weekly printed the original recipe.
2 oz Clase Azul reposado tequila
1 oz triple sec
1 oz agave nectar
1½ oz lime juice (from half a lime)
Kosher salt (for rim)
Rim pint glass with lime juice and kosher salt. Squeeze half a lime into mixing glass. Put lime into shaker with ice. Add tequila, triple sec and agave nectar to mixing glass. Shake and pour.
Key West: Rum Runner
Turn your pool float into a floating library by adding Key West's most beloved local, Ernest Hemingway, to your summer reading list. But, it may be difficult to stay awake long enough to finish "A Farewell to Arms" after a couple of Rum Runners.
Like many cocktails, Rum Runners were invented in the 1950's. The Holiday Isle Tiki Bar in Islamorada, Florida, takes credit for this vacation classic. The Florida Keys Guide printed their favorite version.
1 oz pineapple juice
1 oz orange juice
1 oz blackberry liqueur
1 oz banana liqueur
1 oz light rum
1 oz dark rum or aged rum
Splash grenadine
Optional: Add one ounce of Bacardi 151 to float on top
Jamaica: Wray & Nephew with Ting
Jamaica is so much more than bobsled teams, ganja and Red Stripe beer. Locals love Wray & Nephew rum.
Anybody who has nursed a vicious hangover in Jamaica will tell you Wray & Nephew overproof rum is not like the rum back home. It's strong, mon. But, combined with Ting—a popular Jamaican grapefruit soda—you'll practically taste the island.
A little reggae music blasting from your Sound Float pool float waterproof Bluetooth speakers will make you feel like you're in the middle of the Caribbean Sea.
1 ½ oz Wray & Nephew White Overproof Rum
4 oz Ting
Lime
Combine Wray & Nephew with Ting over ice, add a squeeze of lime. Garnish with additional lime slice.
(If you can't find Wray & Nephew or Ting, make a similar version with white rum and grapefruit soda.)
Cocktails + Pool + Music = Bliss. Shop SoundFloat today and experience for yourself.