5 Steps to Throwing an Epic Pool Party in 2018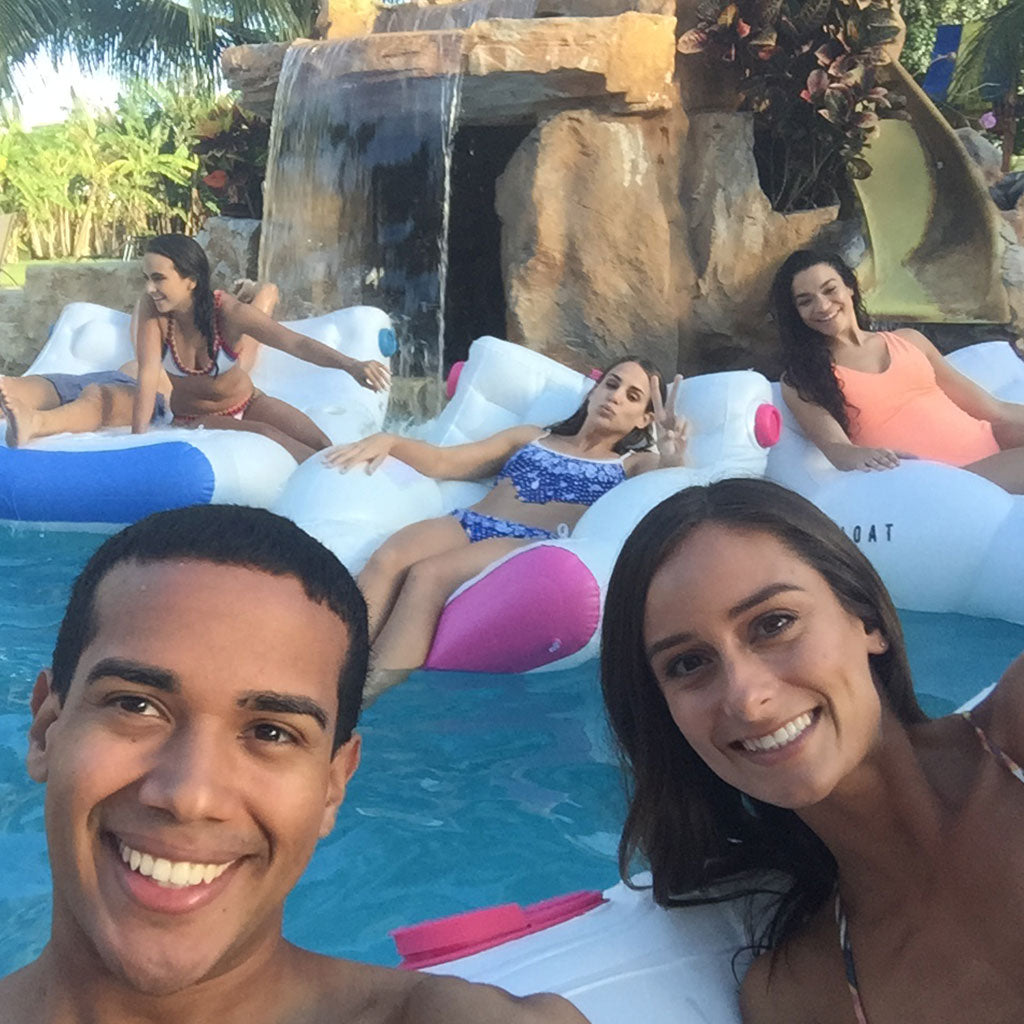 A wise man once said, "If you're going to have a party, you might as well make it epic." This might have been Socrates, maybe Plato, we're not sure, but whoever it was they were right.
The fact of the matter is parties are awesome (that's the understatement of the century, maybe). It's always going to be a good time when you've got good friends, lots of sun and cold suds.
If our pool floats are any evidence, you know that we here at Sound Float are always striving for the next level. We're always trying to have the coldest beer, best music and a smoking hot grill cooking up the most mouthwatering food.
Therefore, we've decided to drop some knowledge. In this article, we're outlining our five-step program so you can party like the pros. Here you'll find tips on everything from DJ-ing to grilling to what makes the best water gun battles all so you crank your next pool party to 11!
Step 1: Please Don't Stop the Music
The first thing you need to do is get the music blasting. There's nothing worse than showing up to a silent pool party and trying to make quiet conversation so no one can overhear you talking about what a bad drunk the host is. 
And if you're that host, you don't want everyone knowing you're a bad drunk so crank the tunes!
There's a few ways you can go about doing this and with the miracle of Bluetooth we suggest having music everywhere your guests are—in the house, around the grill and in the pool. 
Did we say "in the pool?" Oh yeah we did. With the Sound Float, you can connect your Bluetooth-ready devices to the float's internal speaker system. Even if your guests are splashing around, they can jam on!
Step 2: Fire it Up (But Don't Let it Burn) 
Food is all-important as well. You don't want a bunch of hangry guests complaining that their tummies are rumbling, so have the grill going early. We like to have some food ready before the guests arrive—think chips, dips and maybe a few hot items too.
If you're not the most adapt grill master, don't fret. There's tons of great grill tips out there that will help you become the ruler of fire and flame you always knew you could be!
Step 3: Stay Thirsty
Of course, no pool party is complete without beverages… preferably, adult beverages. 
Sure, sure, it's a good idea to keep a few jugs of water around to make sure everyone stays good and hydrated, but we suggest keepings the booze flowing so no one has to go on a beer run after they've been drinking.
We're whiskey people so we like to beat the heat with a summery whiskey cocktail but plenty of folks will tip up their cups for vodka and tequila as well. Just be sure to stock up before your guests arrive.
Pro tip: we suggest making a bunch of batched cocktails (cocktails made in large quantities) and serving them from large vessels like jug water dispensers. This way, you can control how heavy your guests are pouring so no one gets too smashed too fast!
While we're on the subject, keep glass away from the poolside! Instead, invest in some stainless steel tumblers. They'll keep your drink cold for hours and won't break if someone drops them!
Step 4: Have (Water) Guns, Will Travel
Some people think that water guns are just kid stuff but we beg to differ. Get people into the pool-partying spirit by arming them!
There've been a few advances in water gun technology since we were kids but mostly they remain the same and you'll find all the brands you remember when you go out to buy some.
Listen, you're the host so you get the best of the armaments. Save the dinky water pistols for your guests and outfit yourself with something a little more powerful.
Step 5: Lay in the Lap of Luxury
The final step in our plan is, of course, the luxury pool float. After you've spent your day manning the grill, making sure your guests have stayed socially-lubricated with a good drink and being an all around incredible host, you deserve to kick back and relax. So jump into the pool and get on one of our Sound Float pool floats!
For the Sound Float luxury pool float with Bluetooth speakers, we use a memory-foam surface so it's as comfortable as your bed or couch, a triple-sealed touch sensitive waterproof pouch to keep your phone dry when you bring it aboard and the aforementioned Bluetooth audio system with 20W amplifier. It's the latest and greatest in pool float technology and a must-have for any pool party!
By now, you should be able to graduate from pool party Padawan to full-fledged Jedi of the Grill-and-Chill variety! So pump up those pool floats, take a trip to the liquor store and get the charcoal burning because the first day of fall is just a month away so soak up the sun while you can!